We are members of many community organizations and feel it is very important to support local charities. We cannot be all things to everyone, however our involvement is extensive within El Dorado County.
We are members of the following organizations:


Marshall Foundation
El Dorado Union High School Boosters
Union Mine High School Boosters
Ponderosa High School Boosters
Currently a sitting Board Member of:


El Dorado County 4H Council
M.O.R.E.
Awards & Recognition Association
Currently an Officer of:




These are a few of the organizations that we are actively committed to on a regular basis. We support a variety of local Youth organizations such as the Western Slope Boys and Girls Club, many Little Leagues, Softball Leagues, Special Olympics. We have, on a continual basis, donated to the above mentioned organizations as well as the Ride & Shine, Fireman Fundraisers, Kiwanis, 20/30 Clubs, Lions Clubs, Soroptimist Clubs, The American Legion, Schools, El Dorado County 4H and FFA, Komen Race for the Cure.


As you can see we try to support as many and as much as we can. It is our policy to have requests submitted in writing for a donation as early as possible as we meet twice a year, January and June, to determine who will be awarded money from our donation budget.



Networking Group Membership

Interested in joining the Premiere Networking group in El Dorado County? If you are interested in growing your business, be my guest and join us for breakfast, we meet each Wednesday morning at 7:16 am - 8:31 am at Denny's in Placerville.


Supporters of Shop Local Campaigns
Keeping Small Businesses in Business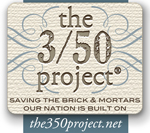 National Trade Association Membership
ARA - Awards & Recognition Association
PPAI - Promotional Products Association International
PMANC - Promotional Marketing Association Northern California